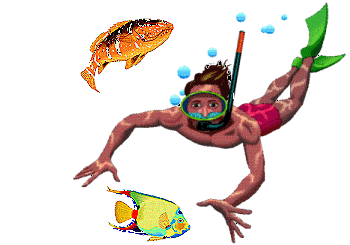 ---
Scuba diving has been a passion of mine for several years now. Since my first experience with the underwater world on a Greek vacation, back in 1989, I have strived to learn as much as possible about the marine environment and how best to dive in it. Since becoming and instructor in 1992 I have had the pleasure of teaching many people how to dive and enabled them enjoy this unusual habitat with safety.
Here are some related links for you to enjoy.
Learn to Scuba Dive! Why should you learn to Scuba Dive and how can you contact us to arrange classes? Follow this link to find out all the answers and dispell any of those misconceptions you might have.
Paul Allan. Another scuba instruction resource in the Bay Area. Paul is a fellow Brit with an acompanying wit.
Pacific Offshore Divers in San Jose, CA. When the need arises PODI are the greatest dive store in customer satisfaction and equipment sales and service.
Bay Area Diving. Assembled by Kyle McCane, owner of the ba_diving mailing listserv, this is a site being packed with information about scuba diving in the Monterey Bay area.
PADI Headquarters is where it all originates. Without this training agency I wouldn't be diving or teaching others how to dive.
Beach Diver's Hawaii My first experience with scuba diving in Hawaii. If you're going to Oahu, dive with these guys! They're first class.
Diane's Scuba Page has links and reports on various dive sites and operations around the Hawaiian Islands. I never go to Hawaii without checking out her reports first!
Kona Coast Divers are a PADI 5 Star center in Kailua-Kona on the coast of Hawaii's Big island. They run a great operation including a Manta Ray night dive which is awesome.
---

---
Please mail your Feedback to Terry Ridgway
Last Updated: